Leslie Velasco is a 9th grade physics teacher at DSST: Green Valley Ranch High School. Graduate of DSST: Montview, Leslie has started her first year of teaching with the hopes of inspiring students, just like her DSST teachers inspired her. She is off to a great start, and it has not gone unnoticed! Colleagues are impressed at how well she is doing- you would never know that Leslie is a first year teacher when you are in her classroom.
Rosita Mallo, Manager of College Success at GVR: HS, nominated Leslie. "Leslie works hard to build meaningful relationships with her students, very often connecting with our tougher students in amazing ways," says Rosita. Her students love her honesty, and respect and trust the consistently high bar that she holds for each of them.
Leslie's influence extends beyond the classroom. She co-leads VOCES, GVR's Hispanic Student Alliance group, with Rosita. Their mission is to build awareness about the Hispanic community through outreach activities such as the second annual Hispanic Culture Fair, which Leslie assisted in planning and executing. You can find Leslie in the bottom row, second from the right.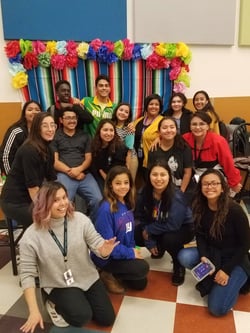 The fair is a community effort where VOCES connects with GVR's Hispanic families to provide food donations, served free at the event. VOCES in turn provides the space, a youth mariachi band and entertainment for the evening.
VOCES also put together a Day of the Dead altar, enjoyed at the Hispanic Culture Fair and by students throughout the week.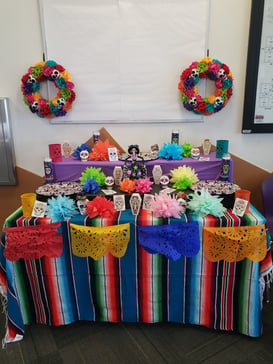 Congratulations to Leslie for inspiring her colleagues and truly making a difference in the lives of students, both within her classroom and across the larger community. And considering it's just her first year, we can't wait to see all of the great things she will accomplish!
Do you have a colleague who deserves the glow of the Super Staff Spotlight? Nominate them today!