Innovation & Excellence: How DSST Is Inspiring the Next Wave of STEM Leaders
STEM—Science Technology Engineering and Math—is at the heart of DSST Public Schools—it's even in our name!
Did you know that even though DSST high schools make up only six percent of Denver Public School's (DPS) total student population, we make up a much larger ratio of passing results in AP exams? Not only that, but a significant number of DSST students have gone on to pursue careers in engineering, biotechnology, medicine, and biomedical sciences.

What sciences classes do DSST high school students take?
Every student at DSST takes a minimum of four science courses. Ninth grade begins with Physics/AP Physics which gives students the basic math and scientific concepts needed for future courses. Students also have the chance to take Creative Engineering, a robotics and coding course. In later grades, reading skills become more important, as students tackle Chemistry/AP Chemistry in tenth grade and Biology/AP Biology in eleventh. During their senior year, students have different options based on their high school, but DSST Stapleton offers Biochemistry & Biotechnology, Advanced Physics & Engineering, or AP Physics and Engineering.
What exactly makes DSST's STEM programs stand out?
We spoke to 9th grade Physics teacher Jonathan Chan and 11th grade biology teacher Lewis McCall to go deeper into DSST high school STEM programs. The two biggest factors in student success, they explain, are academic culture and teacher retention.
"Academic culture" is the biggest factor, said McCall, "We set really high expectations and provide support. We have three tutoring sessions every week. Tomorrow before school, we have two PhD students coming from CU Anschutz who meet with our students, have cups of tea and study for trimester three."
"With AP biology, we're really doing first year undergrad level for most content. Even our non-AP students are reaching that level of content. If you take AP Bio junior year and Biotech/Biochem senior year, you're doing second or third year college work. For example, students just finished CRISPR labs, cutting edge gene technology where you edit DNA and insert it into bacteria. We're one of a few high schools in the nation to have this technology." During labs, he clarifies, students consider both the technical and the ethical implications of scientific research.
Another factor, they agree, is teacher retention. "We came here seven years ago, and out of all of the departments we have had the least turnover. Continuity is huge." said Chan.
"And that's enabled us to improve every year," McCall chimed in, "so that as a junior teacher I am getting students that are better prepared than the previous year. This year we have more than 50% students of color in our AP classes, which is a big step."
How are DSST's STEM programs Innovative?
From talking to McCall and Chan, the major source of DSST's innovation seems to come from their strategic partnerships. During their junior year, DSST students have an outside internship, which can lead to opportunities a year later when they complete their senior project.
"We get excited when someone does a science-related senior project. Recently, Eliza Stein mapped human migration around the world using slime mold modeling. She showed how slime mold would migrate to different places in search of food. Aiden Barker did a project where he was working with a professor to CU-Boulder on genetically engineering bacteria that could eat ocean plastic. Finally, Nathan LaPore and Max Alger-Meyer built a camera drone and delivered it to an African game reserve, teaching the park rangers how to use it."
This last senior project was covered by the 9News and The Denver Post. Ultimately, the rangers used the drone to photograph and promote the park as well as to count animal populations in hard-to-reach locations.
Another major innovation comes from DSST Stapleton's partnership with the Global Livingston Institute, an organization that takes six to eight DSST students to Uganda and Rwanda each year. Students spend time doing golden monkey field research with primatologist Sandra Gray. They also spend time thinking critically about culture and geopolitics with the trip motto not far from the scientific method: "Listen, Think, Act."
From DSST, to the World
Ultimately, both McCall and Chan are deeply inspired by their STEM students, which is partly why they have remained at DSST Stapleton for seven years. "I'm a firm believer that biologists have a huge opportunity to save the world whether its by ecology, gene technology, medicine, or agricultural understanding. We need brilliant biologists who are ethically minded, morally centered, and critical thinkers. I want a generation of biologists to come out of this school who have a major impact on the world."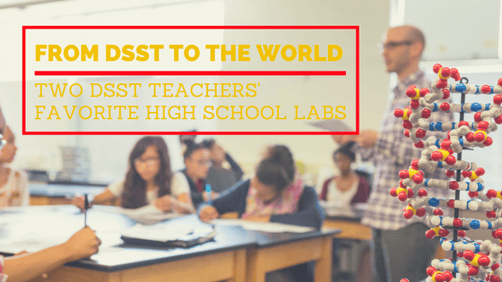 Want to read Jonathan Chan and Lewis McCall's favorite science labs? Click over here to see their top lists.