3 "science" activities to do with your kids this summer
1. Create a Terrarium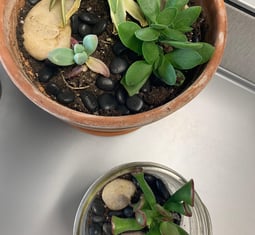 Terrariums are fun ways to combine science and creativity, and simple enough that both kids and adults can enjoy creating them. Did you know plants release oxygen and absorb carbon dioxide? That's the opposite of what human's do when we breathe!
Materials Needed
Glass container (a Mason jar or old flower pot works, too!)
Gravel
Charcoal
Soil
Decorations
Succulent
Directions
Wash your jar out with warm, soapy water.
Place a layer of gravel around bottom and then cover the gravel with carbon for filtration (very thin layer).
If you would like to add any sand for decoration, add some at this point. If your jar is not too tall, skip this step to make sure your plant will fit.
Add 2-3 inches of soil.
Plant the plant in the soil layer, being very careful to avoid touching the leaves as much as possible.
Add rocks, animals, and moss for decoration if desired.
Use a paintbrush to lightly brush off any sand or dirt on your plant.
Water once a week at the base of the soil.
2. Make Ice Cream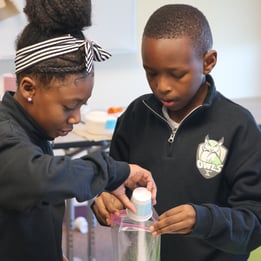 Homemade ice cream is fun to make and great to enjoy during the summer months. Add additional candy, cookies, etc for extra taste! When you make this ice cream, you'll notice that the bags feel REALLY cold - this is Chemistry in action! Read more about it here.
Materials Needed
2 small Ziploc Bags
Sugar
Measuring Spoons & Cups
Vanilla
Gallon Ziploc Bag
Rock Salt
Directions
Grab 2 SMALL ziploc Bags. Set one aside. You will add all the following ingredients to the same bag.
Add 2 spoons of sugar to the bag
Add 1 cup of half and half to the bag (fill to the black line)
Add ½ spoon of Vanilla to the bag.
Seal the bag and insert into the other small bag. This prevents it from leaking out.
Seal bag and set aside. Grab a LARGE (gallon) ziploc Bag
Add 3-4 cups of ice to the large bag
Add half a cup of Salt to the Large bag.
Place your small bags into the large ziploc bag. Make sure all bags are sealed.
Shake the bag for 3-5 minutes or until ice cream is ready to eat.
3. Try a New Recipe
Summer is the perfect time to create some new twists on recipes for favorites. Plus, did you know eating vegetarian can cut your personal carbon footprint in half?
Materials Needed
1 15-oz can black beans rinsed and drained
3 large eggs
3 Tbsp flavorless oil, like canola or sunflower
1 tsp vanilla
¼ cup unsweetened cocoa powder
⅔ cup sugar
½ tsp baking powder
¼ tsp salt
½ tsp finely ground or instant coffee (optional)
½ cup semi-sweet chocolate chips
Directions
Wets: Preheat oven to 350 degrees F (176 C). Puree black beans in food processor into a rough paste. In a large bowl, mix together the bean puree, eggs, oil, and vanilla.
Dries: In a separate bowl, combine cocoa powder, sugar, baking powder, salt, and coffee (if using). Add the dry ingredients to the wets, then stir in chocolate chips.
Bake: Grease an 8×8 or 9×9 inch pan, then line with parchment paper. Pour in batter and bake for 30 to 40 minutes, or until the edges are visibly cooked and the center doesn't jiggle much when you shake the pan (a toothpick may still come out a little gooey, that's fine!)* Allow brownies to cool before cutting.