A Parent's View: Getting Ready for E-School
Dear DSST Families,
I hope everyone is healthy and safe during these strange times. As a working mom of three kids attending three different schools, I share your rising concern (maybe even panic?) about how we are all going to navigate changing work demands while supporting our kids to learn and grow academically this Spring. If this sounds familiar, here is a terrific article by The 74 about managing this time. The bottom line - we've got this.
Like the entire team at DSST, I am very excited about the launch of DSST's E-School on April 8th, and I believe it will offer structure and connection that will not only be good for kids, but hopefully will be very helpful to parents. We don't believe that simply sending online assignments is sufficient. We also know that our high engagement approach will put some demands on families. This post attempts to help you think through some aspects of learning at home - from the perspective of one mom (me) who's trying to get her own kids and household ready.
We know we're technically on "Spring Break" right now, and we want you to have this far enough in advance of Wednesday, April 8th so you can prepare your household and family. These are of course just my recommendations; you know what's best for YOUR family. If you have ideas that you think should be included here, please feel free to comment below. We're going to all need to work together to get through this.
1. Begin getting back to a school routine
E-School will run from 9:00AM - 3:00PM Monday - Friday. This weekend, get your kids back to a reasonable bedtime and waking up at normal times. I know I've let this slip a lot in the past couple weeks and it's going to take a few days for my teenager especially to re-adjust.
Get them completing morning routines—washing face, brushing teeth and getting dressed!
Make sure they are eating a nutritious breakfast that will help them stay focused

I love these 21 kid breakfast recipes from BuzzFeed…but let's be honest, most mornings we barely have time to make instant oatmeal. So our kids survive on a quick scrambled egg, yogurt or a waffle with a handful of nuts.
I've also been trying to incorporate more immune-boosting foods into meals. Can't hurt, right?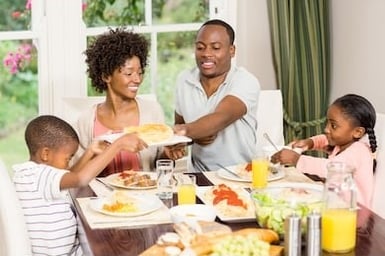 Yeah, my family breakfast hour DOES NOT look like this.
Have them make sure they are logged into our primary E-School platform, Microsoft Teams, by 8:50am for their 9am Advisory Check. As your student will undoubtedly know, our computers can sometimes take some time to connect and occasionally need to re-start. Watch how to connect to Teams with a simple video here
2. Make sure your student has the right stuff for E-School
Headphones - these will be important, especially if you have multiple kids at home who will all be learning on their own devices. All of our student computers have regular headphone jacks and we actually recommend simple wired headphones with a microphone for school, as not all Bluetooth options can be downloaded on our computers and battery life is a constant problem. If you don't have a pair of headphones, here is a good affordable over the ear solution and here is an in-ear style. If you have any problems getting headphones and need help, please click here.
Make sure your kiddo has the basic supplies they bring to class every day, including: computer, charger, headphones, independent reading book (IRB), writing utensil, and something to write on (paper, notepad, etc.). It's worth asking your student well before April 8th where their stuff is.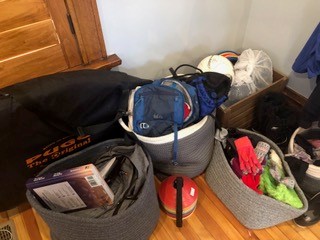 I think Bo's supplies are in here, but who knows?
3. Find a quiet spot with minimal distractions for your student to spend the day
This is critical - and we know it's not necessarily easy if your whole family is at home all day. Can your student attend class from their bedroom with a shut door? Or perhaps from your bedroom? We recognize students may have to share a workspace with their siblings- remind them how important it is that they remain focused and committed to their studies, and to be respectful and limit distractions.
Find a makeshift desk. Believe me, my son would slump on the couch all day with his laptop on... his lap. I guarantee he won't be as engaged in this position as he would be at a table or desk with a proper chair. Find an extra table, buy a folding table, or borrow a desk from us. Whatever it takes, get them sitting up and at a defined workspace from Day 1.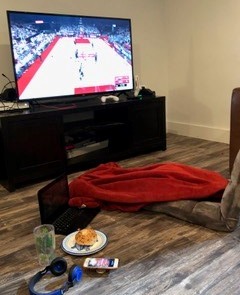 Bo, who refused to be pictured, may think this is a good learning environment. Not.
4. Set expectations about phones, tablets, and the tv being off during learning hours
My sons' phones will be downstairs, away from their desks. TV, iPads, etc are not allowed to be in their rooms or on during school hours, 9am-3pm. Their Kindles (no wifi) are allowed to be with them.
Whatever you decide, establish the rules from Day 1 and stick to them.
5. Make a basic plan for food for the day
As in physical school, we're not letting our kids eat during class. We're asking them to think about what they want to have in between classes and have it ready in the kitchen. They are allowed and encouraged to take a full water bottle into "class." (Yeah, a little rough, I know. This is all in the spirit of ensuring kids are able to focus.)
Remember that the lunch break in our schedule lines up with when DPS is serving lunch, so if you're using DPS's food services you should have plenty of time to pick up lunch for your kiddos.
If you're having your kids eat at home, think about preparing lunch (or having your student prepare their lunch) in the morning - just like you would for physical school, and put it in the fridge so that it's ready to grab and eat. Like many of you, I can't make sure that my work schedule lines up with my kids' lunches and I really don't want to continue to hear the phrase "mom, what's for lunch?" We get that enough for dinner, right?
6. Plan for your student to take breaks during the scheduled times
Encourage them to get outside to take a walk and get some fresh air. Give them parameters for how far they can go and for how long.
My husband swears by juggling as the best brain break. Make your own balls, buy from Amazon and watch a super simple video to get started.
If you're more of a singing type, check out Smule if your kid wants to belt out a few songs with friends during a break.
7. Complete assignments by Friday at 8am
Each week your student will have a number of assignments. They will be distributed Monday at 8AM and need to be completed and submitted by 8am each Friday. Help your student find a cadence for getting this work done, just like they do in physical school.
As a parent or caregiver, you will receive a weekly summary of assignments due so you can easily help your kids stay accountable. Any reinforcement and support that parents can give will make all the difference.
8. Stay connected via Flyer
Your student's Advisor and School Leadership will be keeping you updated via our parent communication app, Flyer. Please make sure you have this app installed on your smartphone and that you are verified. For directions on how to do this, click here, and reach out to Flyer@scienceandtech.org with any questions.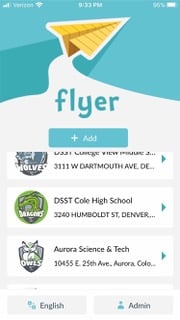 Again, as a working mom, I know this feels like a lot to manage. The partnership between our schools and our families is now as important as it's ever been. We cannot thank you enough for working with us, and your student will be better off down the road because of all of the hard work, patience and flexibility happening right now. We are here for you. Don't hesitate to reach out with any questions or issues.
Best,
Heather Lamm
Chief Advocacy & Communications Officer
DSST Public Schools