AST 7th Graders Built a Model B-17!
After wrapping up iReady testing, the entire 7th grade class at Aurora Science & Tech Middle School participated in a special community day afternoon led by 7th grade social studies teacher, Allie Crites. Together, students built a model B-17, a bomber plane that was used by the US Army Air Force during World War II.
The students recently finished their last unit around World War II that addressed the foundational question, "How did different communities, including marginalized ones, impact and support the war effort at home and abroad in the military?" The communities that were researched included women, Asian, Jewish, LGBTQIA+, African-American, Latinx, and Indigenous. Students dug into how citizens supported the war through rationing food and gas; recycling tin cans for aircrafts and fabric for uniforms, and much more. Students learned that even as important as the military service was, without the support at home, the Allied victory in WWII may not have happened.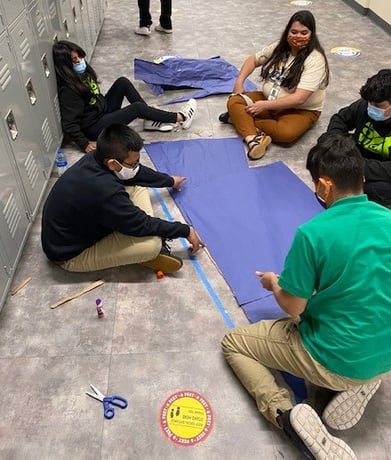 Students get to work on one of the wings
Students pose together with one of the B-17 wheels
The Owl community is valued and diverse. By highlighting community efforts from the 1940's, students were not only able to learn more of these important stories of the past, but also how that same community spirit lives today through the incredible impact of collective communities during the global pandemic. Students will continue to learn as they hear from guest speakers who will share their own unique stories about growing up during World War II. Two claps on two for the teamwork and curiosity of these 7th grade Owls!