DSST: Conservatory Green High School Chess Club/Team makes winning moves on and off the board
The DSST: Conservatory Green High School Chess club/team has taken the local chess scene by storm, turning heads and making their mark in various tournaments throughout the year. What started as a casual club has blossomed into a competitive team, showcasing the students' strategic prowess and fostering a vibrant community of chess enthusiasts.


Under the guidance of club lead and coach, Chad Edwards, the CGHS chess team embraced the challenge of transforming their club into a formidable force in the chess world. Since January, the team has participated in five tournaments, with their efforts culminating in a notable achievement at the Colorado Student-Led Chess Association State Championships.

In the Junior Varsity Division, the CGHS chess team claimed an impressive third-place finish, demonstrating their growing skills and tactical acumen. Not to be outdone, the team's varsity squad secured an impressive fifth-place position, highlighting their competitiveness and determination.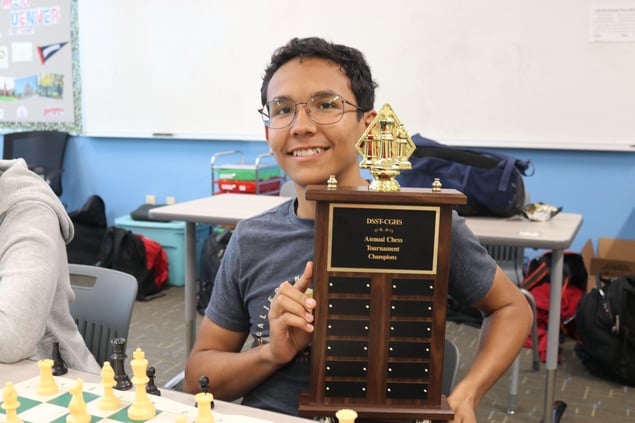 Eduardo Garibay, a freshman and newly-elected district officer for the Denver and Aurora chapter of the Student-Led Chess Association, expressed his enthusiasm for the chess team's success.

"Having a setting where I can play chess is very refreshing," Garibay said. "It's more than just a hobby; it's a way to build a community and strengthen our school."

The team's accomplishments have inspired students with varying levels of experience to join the chess club. Jared Runnels, who has been playing for only three months, credits the club for igniting his passion for the game and honing his critical thinking skills.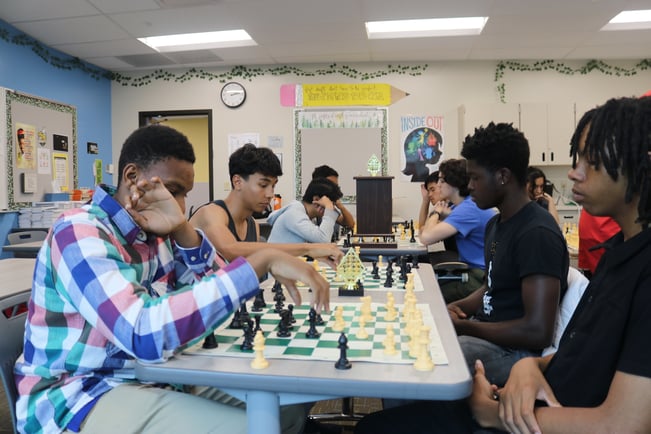 "This chess club space has truly impacted me," Runnels shared. "From being a beginner to becoming an intermediate player, I've witnessed a positive transformation in myself."

Atziry Ricalday, the only female player on the team, encourages other girls to embrace chess without hesitation. Despite the challenges of being a minority in a male-dominated space, she finds solace in the club's safe and supportive environment.

"This chess club is a safe space to just get with your friends and play and casually have fun," she said.
For Alexander Guan, chess serves as a refreshing escape from the rigors of schoolwork. The club provides a relaxed atmosphere where players can unwind, connect with friends, and enjoy the game.

"At the end of the day, it's not really about who wins or loses, it's about the game," Guan emphasized.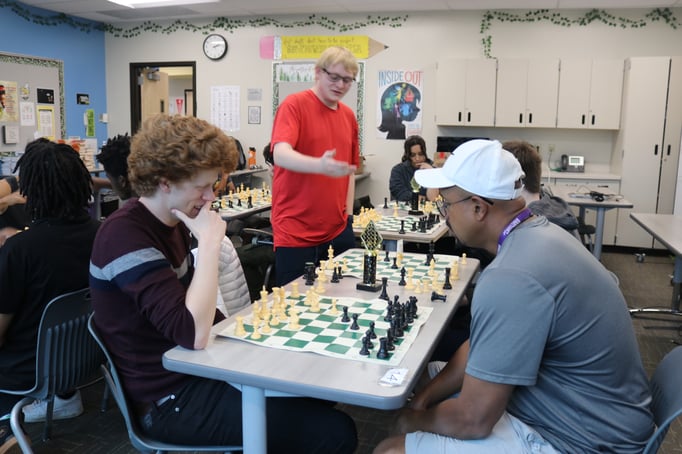 Edwards has been instrumental in guiding the team's growth and fostering a positive atmosphere. After teaching chess as an elective at DSST in 2017, Edwards established the official DSST chess club last year, which eventually evolved into a competitive team. Edwards expressed immense pride in the team's achievements and their ability to create an inclusive space.

"The accomplishments that the students have made this year are astounding," he said.

Next year, Edwards plans to teach chess as an elective class, a rare opportunity in Colorado. He believes that chess offers numerous social and academic benefits, teaching valuable life skills such as decision-making, planning, and pattern recognition.

"Just like on the chess board, every move that you make can have positive and negative consequences," Edwards said. "A lot of our kids are getting ready to go off to college and that is a major life choice that they have to make. It's like, 'Do I move the knight out, or am I moving out the paw?' Just like in chess, in life sometimes you don't know what the outcome is going to be, but as long as you are making the very best move that you feel you can make, generally things turn out well."

Edwards hopes to spread the love of chess throughout the DSST network and empower students with the skills they can apply beyond the chessboard.

The success of the CGHS Chess Club/Team has brought joy and excitement to the entire school community. As they continue to hone their skills, build a tight-knit community, and encourage others to embrace the game, these talented students are proving that chess is more than just a game—it's a pathway to friendship, growth and endless possibilities.