DSST celebrates Earth Month
While honoring the Earth can't be limited to just one month, April is a great opportunity to recognize the impactful ways that students and staff across our network are supporting our planet. At the Byers, Montview, and Cole campuses, there are already many different initiatives underway, and new ones ramping up for next year. Read on as we highlight the awesome work at each of these schools!
At Byers High School, computer science teacher Chelsea Sparks leads the Sustainability Committee. While their activities have been paused due to COVID, they are currently re-starting their compost initiative, and are also building a campus garden next year. Senior Roxana Haas, President of the Composting and Sustainability Program, started the compositing initiative last winter, right before COVID hit. Check out this video where she invites her classmates to join her in composting and recruits a new leader of the program to carry on this important work after she graduates.
At Cole Middle School, Sustainability Liaison and social studies teacher Dean Jeziorkowski has been leading several different initiatives for both staff and students to participate in. As Sustainability Liaison, Dean actively works with DPS and People.Power.Planet to make Cole MS less wasteful in energy consumption, and saves the school money that can be put towards other important causes.
Here are just a few habits Cole MS staff have incorporated:
Turn off lights when not in use, especially over nights and weekends
Save some electricity and open the blinds
Turn off power strips in rooms at the end of each day
Turn off all the little things – second monitors, speakers, etc.
Unplug smart boards and other electronics at the end of day, and especially over the weekend.
People.Power.Planet provided stickers and other signage to post around the building as reminders to join in and minimize the carbon footprint.
Cole MS has also been focusing on how to make lunch more sustainable. Students are asked ahead of time if they want milk with their lunch, saving countless unopened milk containers. Additionally, the new COVID lunch system is packaged with an inordinate amount of plastic, and the wastefulness is compounded if students are absent or don't want lunch- those lunches and their packaging end up in the dumpster. To avoid this, staff move all leftover lunches into a pile at the front of the building, and then deliver them to people at homeless encampments nearby.
This year, Cole MS staff members pledged their commitment to reducing their carbon footprint. While just a few students have also made a pledge so far, he's going to be rolling this out in a bigger way next year with a "power patrol" of students armed with badges and clipboards who will rate and offer feedback to others in the building on their carbon footprint habits.
At Montview High School, Team Green is back in action, led by science teacher Hilary Walker. Senior Felisha has taken on much of the work of getting the greenhouse going again, planting and caring for new plants, teaching others how to plant seeds, and general maintenance.
Felisha waters plants in the greenhouse
But it takes a village, and she also advertised to get others involved.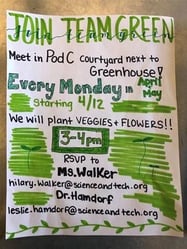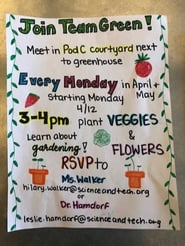 And numerous students joined in!
From left: Aron, Miles, Isais, and Sam
Senior Sam fixing the windows and venting system of the greenhouse after a year of inactivity
The Colorado weather always keeps us on our toes, but luckily senior Veronica trudged through the record breaking March snowstorm to brush off the roof of the greenhouse and let the light shine through.
Montview senior Adele is also committed to the outdoors, as part of her senior project was dedicated to studying the impact that nature can have on developing minds. She hosted numerous events and panels in partnership with local organizations, and participants were entered into a raffle for a $15 gift certificate to a state park. Check out her proclamation poster below, with details on her series of events!