DSST: Montview Grad Heads to the Paralympics
Robert Tanaka, DSST: Montview High School '18, is competing in the 2020 Paralympics in Tokyo! He will represent the United States in the judo competition. Robert is currently a senior at University of Southern California (USC), and has been competing in judo almost his entire life.
Starting when he was five years old, Robert began training in judo. Robert is albino and has limited sight, and was drawn to the sport as an outlet to compete and fit in. He is Japanese American, and also appreciated judo's connection to his heritage.
Robert's mother Shelly said that Robert was hooked on judo from the very first time he got on a mat. Scott Moore, who would eventually become his coach, showed him around the mat and introduced him to some basic moves. "Scott had Robert throw him, and Robert was so excited to throw a grown man when he was only five!" Shelly said. "He didn't realize at the time that Scott jumped to help the throw, but Robert loved it and hasn't left the mat since."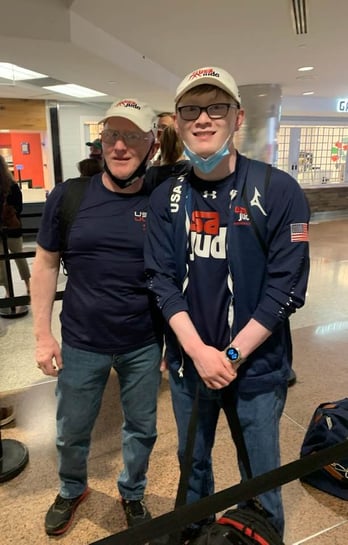 Robert & his coach Scott Moore
Robert attended DSST: Montivew High School, which his mother described as an incredibly supportive environment. He had to travel frequently for competitions, and the school was always helpful in ensuring he was able to keep up with his classwork. Shelly said that one of her son's favorite memories from DSST was when he demonstrated judo during a Morning Meeting and got to throw a teacher!
After graduating from USC with a degree in economics and math, he is considering graduate school or teaching in the future. Robert will likely step back from competing after the Paralympics.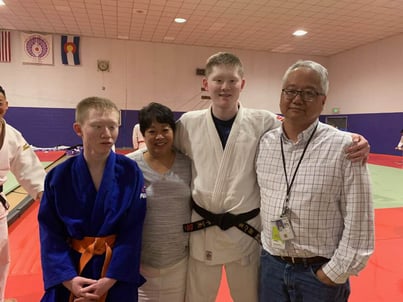 DSST featured Robert on Senior Signing Day in 2018! Check out his story here, and don't miss when he names his goal of winning a medal in Tokyo! You can also read more about Robert's story in this Denverite article and this article from USC.
Robert is currently ranked #1 in the United States and #6 in the world in his judo division. Competing in the Paralympics is the opportunity of a lifetime, and the DSST community is thrilled to support Robert! Read more about the Paralympics here. The Paralympics are parallel to the Olympics, and the event provides a platform for Para athletes with a diverse range of impairments to showcase their outstanding abilities to millions of spectators and billions of TV viewers. You can find information on how to watch Robert and all the Paralympic athletes here. The judo event takes place on Thursday.
#TwoClapsOnTwo for Robert!