E-School Celebrations & More
DSST Families,
Happy Friday! As we close out Week 2 of E-School, I am grateful for the incredible parent support and student engagement we have seen during E-School. Thank you! Our team has compiled a video on Week 1 of E-School and building the joyful DSST community online. Please enjoy!
Here are some of this week's highlights.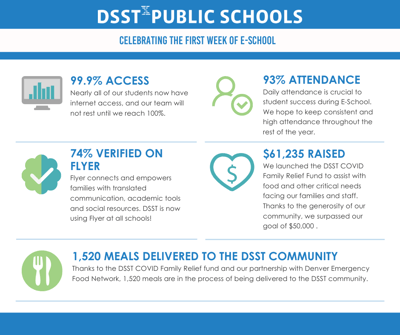 What We Have Learned
While I am very happy with how E-School has started, we continue to see things we need to improve on. (I am pleased to say the "chat" challenges we had last week with students have been largely solved) Here a few things we need to improve. 1) Making sure the curriculum is both accessible to all students and challenging enough - fine line in many classes. 2) Finding enough time in a busy daily schedule for teachers and students to connect one on one and in small groups. 3) Supporting the last 5-7% of students who are not as regularly and deeply engaged with school every day from a learning perspective.
If you are in need of food assistance, we hope that you take advantage of the DSST COVID Family Relief Fund. Click here to request assistance. You can also pick up breakfast and lunch at these dedicated DPS sites.
If you are interested in contributing to this fund, you can make your donation here.
This week, we launched Project: Create, weekly STEAM challenges for K-12 students across Colorado. This week, we are challenging students to travel from home and create their own "Imagined Space," whether by programming a virtual reality imagined place, or writing about an imagined time or place that makes them happy. Please encourage your students and their friends to join in on the fun this weekend- they could win awesome prizes like a VIP tour of the Denver Museum of Nature & Science, and a chance to be on TV! Check out this great story that CBS4, our media partner, ran on Tuesday featuring Gabi, a 6th grader at DSST: Montview MS!
Weekly Family Survey
Thank you to everyone who completed our first weekly family survey. Your insight and comments help inform our E-School strategy and important pivots necessary to serve you and your students as best as we can. Please look out for the survey that will come in every Friday from your school so that you can continue to share your vital feedback.
Thank you for your continued support during these times. I am energized by the dedication, resilience, and generosity we have seen from our entire DSST community over the last couple of weeks.
All my best,
Bill