Junior from DSST: Byers shares her perspective on International Women's Day conference
A post by Donna Williams-Martinez, junior at DSST: Byers
International Women's Day is celebrated on March 8. It raises awareness for women's social, economic, cultural and political achievements. As part of the Global Leadership from DSST: Byers, other students and I had the incredible opportunity to listen to remarkable women speak about their accomplishments and how they earned a place at the table in their respective areas.
We were able to hear from a panel of four highly accomplished women in the sectors of education, coffee development and medicine. They showed us that women can stand up and make a difference, and that we must speak up not only to be heard, but also to be confident in what we believe. They also mentioned that men have an impact and should not be overlooked as we work to progress as women.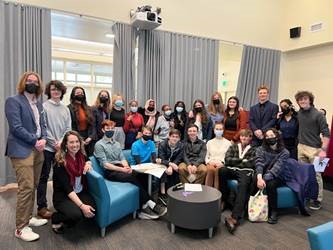 As part of the day, we had the opportunity to socialize with hardworking professionals and learn about the different ways they better the communities around the world, which allowed us to meet new people and create contacts with people for our cause.
For the main event, we were able to hear and experience an outstanding author named Elizabeth Nyamayaro, who is known for her new book "I Am Girl From Africa" and her outstanding TED talks. To round out the day, we had amazing food and dessert. Unfortunately, our day had come to an end, but I know that I -- as well as the people in my program -- took magnificent things away from the event, and we can't wait to do it all over again.