Navigating the DPS School Choice Process
In Denver, any student who wants to attend a school other than their neighborhood school can take part in School Choice; and Round 1 of the SchoolChoice window opens on January 15! Denver families will have from January 15 until February 16 to submit their SchoolChoice form on the DPS School Choice website.
However, if you are not quite sure how to navigate the SchoolChoice process, don't fret. Follow these steps to apply to a DSST school:
1. Fill out the DPS SchoolChoice application between January 15th at 8am and February 16th at 4pm.
2. Sign-in or create a SchoolChoice account.
Login to your current "DPS Parent Portal" account or create a new School Choice Account.
To create a new SchoolChoice account you will need the following information:

An email address or telephone number that you can access immediately
A physical address (you will need to provide proof of address prior to enrollment)
Your student's birthdate
Information on siblings attending DPS schools
3. Select and rank your choices
.
You will first select schools from a list of all schools applicable to your child's grade.

Then you will rank your choices - ranking a school as your 1st choice means that is the school you most want your child to attend. You can rank up to 12 school selections.

Hint: Type "DSST" in the search box at the top right to view a list of all DSST schools.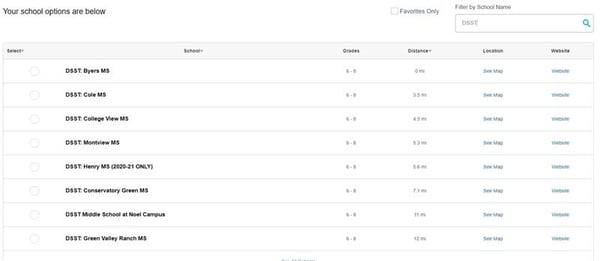 4. Complete your online application by 4pm February 16, 2020.
If you do not complete your SchoolChoice application by 4pm on February 16, 2020, you will have to wait to make your school selection in Round 2 of SchoolChoice.
Round 2 begins every year after families are notified of their Round 1 school placement, and ends in late August . Round 2 is the first-come, first-served segment of SchoolChoice for families who missed Round 1, took part in Round 1 but want to re-explore their options, or are new to DPS for the next school year. Click here to learn more about Round 2.
If you have any problems or concerns while you are completing the SchoolChoice form:
Call any DSST school during school hours and we will guide you through the process.
Call the DPS SchoolChoice hotline at 720-423-3493.
Frequently Asked Questions
---
How can I enroll my student at a DSST School for next year?
You must participate in the 2020 DPS SchoolChoice Lottery window January 15th - February 16th. For best chances to attend a DSST school, please consider multiple DSST campuses and include DSST as the top choice/s of your selections in the lottery. We offer spots each year in grades 6-10, with the most spots available in our incoming 6th grade classes.
When is the DPS SchoolChoice Lottery window?
The lottery window opens January 15th and closes February 16th at 4pm. You must submit your choices online during this period to be included in the Round 1 lottery.
Results will be available directly from DPS in mid-March.
How is the lottery administered?
DPS runs the lottery for all schools and includes your students' preferences, along with the DSST priorities and available spaces based on your students' randomly assigned lottery number. Students will be enrolled at their highest preference school with an available seat.
DSST priorities vary by specific school, but generally follow this order: siblings of current students, residents of the enrollment boundary (if applicable), Denver residents, Non-Denver residents.
You will be waitlisted at any school you ranked higher than the school you are assigned to in the lottery.
What is an enrollment boundary/zone?
An enrollment zone is a geographic area within Denver. Students living within it are guaranteed a seat at one of several schools in that zone, but not necessarily their first choice. Most students receive their first or second choice in the lottery.
Most DSST Middle Schools (with the exception of DSST: Byers) are in enrollment zones. If you live within a boundary and want to attend the DSST school there, prioritize DSST first in your list of choices on the online lottery submission. This will give you priority over students that don't live in your zone.
My student already attends DSST and I want them to continue to attend DSST. What do I need to do?
Your current DSST student will continue to be enrolled at the DSST campus they already attend. You do not need to complete a lottery choice form.
Current DSST 8th grade students are guaranteed a 9th grade spot at your middle school's high school counterpart. You do not need to complete a lottery choice form. After completing the 8th grade, they will be automatically enrolled.