Super Staff Spotlight: Cole Hensley from Cole HS
Our network is full of committed educators. However, not all of them have driven 1.5 hours each way, every day, from Colorado Springs (until his recent move to Castle Rock) to teach at DSST: Cole HS like Cole Hensley.
Originally from Florida, Cole was enrolled in a Physics graduate program at Florida State when he fell in love with teaching. Now in his first year, Cole has impressed his colleagues with his love of learning, positivity, and commitment to our mission.
Teaching 9th grade Physics as well as AP Physics, he consistently inspires students with his Physics content knowledge. Cole has had great success getting his 9th graders thinking critically through the inquiry-based PEER (Physics through Evidence: Empowerment through Reasoning) curriculum. Big shout-out also goes to the mentorship and support from Science teacher Morgen Holt, who has played a significant role in getting PEER physics up and running.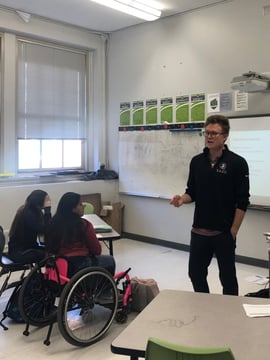 Cole does many different labs and simulations to get students excited about the real-world implications of Physics. In both his freshman course and advanced senior course, Cole is continually pushing students to see the study of physics as an organic investigation/exploration of the physical realities we encounter on a daily basis in the created order. From kinematic simulations to rich conversations around energy conversion, both his freshman and seniors are always pushed to think beyond their Do Nows and classroom in making authentic, personal connections to the concepts and skills they are learning, all fueled and celebrated by Cole's deep passion for this amazing scientific discipline.
Cole is not just a champion in physics- he also qualified and participated in the 2016 Olympic Trials, and swam the 100 meter butterfly! We are so excited to have Cole play a role in helping build a swimming program for Cole high school students next year.
#Twoclapsontwo for Cole, who shows unbelievable commitment to his school community through being a consistent team player and standing out as an engaging and effective teacher.