A Conversation with Peter Sherman, Founding School Director of new Aurora middle school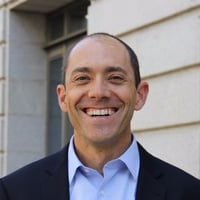 This month, we sat down with Peter Sherman, the Founding School Director of the new DSST school in Aurora. While busy ramping up for the big 2019 kick-off, Peter shared some great stories about his career as an educator, what excites him about Aurora, and the recent 6 month long adventure he and his family took across the USA in a camper van!
Tell us about your journey before joining us as School Director of the new DSST Middle School in Aurora.
I was born in New York, grew up in the Bay Area, but have been living in Colorado for 19 years. Over the past five years, I have been at the Colorado Department of Education (CDE) leading the state turnaround efforts. This involved supporting superintendents and principals as they worked to improve district and school systems. Before that, I was the principal at two different DPS schools- Valdez Elementary and Park Hill Elementary.
During my time at Valdez, we became one of the first innovation schools in DPS, as well as a Dual Language school. Thanks to the many intentional and strategic changes made, the school was transformed from one of the lower performing schools in the district to a top performing school.
However, one of the most formative experiences in my career was my time working as a wilderness instructor at the Outward Bound schools. I led multi- week wilderness courses where youth and adults were immersed in different outdoor experiences, but also reflected and nurtured their own personal growth. Observing how students learned these real world skills helped inform my beliefs about public education. Seeing people get truly hands on and work through real-world problems made it clear to me that learning for both children and adults needs to be relevant. In order to make strong connections and build context, students need to see the clear reason for why they are putting in the effort and time.
Why did you decide to embark on this opportunity in Aurora and what are you most excited about?
Aurora is a place that has a real need for great school options for students and their families, and the opportunity to help provide these spaces to learn was incredibly appealing. Aurora is so diverse: ethnically, racially, and linguistically, and I'm excited to be a part of the community.
The new Aurora school will be near the CU Anschutz Medical Campus, which I'm incredibly thrilled about. Similar to my experience at Outward Bound Schools, I'm looking forward to the opportunity to show students the real-world context of what they are learning in the classroom. Having access to researchers, laboratories, and much more will bring a powerful perspective to the staff and students that I'm sure will infuse their studies with a purpose-driven enthusiasm.
What are some key things you have learned in your past roles, and how do you plan on applying them in Aurora?
My inclination is to take a systems view of things. More specifically, how can we look at all of the variables in education and optimize them to make school an overall better experience for kids? During my time at the CDE, we worked with district and school leaders to really think about their systems and how all of the different parts of their schools and districts could work better to support student achievement. This included examining Human Capital, curriculum and instructional choices, strategies on using different resources, partnerships with outside organizations, and how to create cultures within schools that were positive and supportive of student learning.
After learning Spanish through my studies, travels, and work at a Dual Language school, supporting students as they learn and develop language skills is especially important to me. I'm looking forward to building into the program language acquisition strategies in order to best meet the needs of our students in Aurora. Many of our students will be arriving to school as emergent bilinguals speaking many different languages at home- not just Spanish. How we infuse these instructional techniques in different ways to support language development will be key in helping successfully teach this diverse group of students. I am dedicated to creating an academic and social register of speaking, reading, and writing that can help students flourish as they acquire essential knowledge along with a new language.
Share with us a lesson that one of your school community members taught you
At Valdez, a number of parents, particularly immigrant families, taught me how seriously they took their children's education, and how valuable it was to them for their kids to grow academically in order for them to live in the US as successful adults.
Working with each of these different parents and caregivers is a crucial reminder of the different experiences and perspectives that families are bringing to school. Culturally speaking, not all parents are as comfortable as others in advocating for their children, and it became very important to make sure we were finding ways to connect with parents.
What is your favorite middle school memory?
Woodshop was my favorite class. I've always been a person who likes to make things, and I loved having a class where I could learn through a more hands-on approach. My love for Woodshop always reminds me of how important it is to activate different learning styles to fully engage students.
Tell us about a book that deeply moved you or changed the way you viewed the world.
I loved the book Black Swan Green by David Mitchell. It's about a boy who is going through adolescence, and while he is very unique and stands apart from his peers, he also feels the all too common need to assimilate into what his peers deem to be cool. I loved reading a story about a young person who has enough self awareness to stay true to himself and hold on to his own core values, even when we all know middle school can be a time filled with pressure to blend in with the crowd and forfeit what makes you special.
How do you like to spend your time outside of school?
Whether we're kayaking, rock climbing, or biking, you can find me enjoying the beautiful Colorado outdoors with my wife and two sons. We actually just returned from a six month long trip where we converted a cargo van into a camper, and drove all over the US and Canada. From traveling down the East Coast, crossing the country and driving up the West Coast to British Columbia & Alberta, it was an incredible learning and bonding experience. One of my favorite memories was taking my sons to the historic Little Rock High School, which is in fact a National Park site. Given our mission here at DSST of integrating schools, it was incredibly powerful for my sons to see firsthand what forced integration looked like, and what it means for education today. But no matter where we were, we made it a point to learn about our surroundings, from taking in museums to exploring majestic wilderness.