College View HS Goes Camping
This past weekend, 14 College View High School students went camping in the San Isabel National Forest, near Buena Vista. The overnight trip, led by four teachers, allowed students to build community across grade levels and social groups.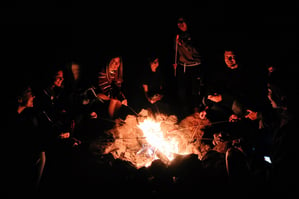 While students have a plethora of opportunities to explore non-academic passions and build community at school, one of the unique aspects of the camping trip was the ability to take a step away from electronics and truly be present while building community.
"Students need time away from social media, work, and stress from living such a busy lifestyle. Camping helped up slow down, go with the flow, and just enjoy the scenery around us and spend time with people around us," said 10th grader Kelly Hoang.
9th grade Math teacher Michael Kelso noted that "new friendships were made and existing friendships were deepened. Students connected with adults in ways they usually can't in the school setting benefiting both students and adults. Students spoke at length about things they are passionate about, showed us their unique mature young adult selves, and spoke candidly about their lives and plans for the future. I personally feel I'll be a better teacher having seen this side of students."
At DSST, we hold our Core Values central to everything we do, and we would be remiss to not mention how the Core Values were exemplified on this trip... students demonstrated a few of our Core Values in ways that transcended the traditional classroom:
Responsibility and Respect

for the land around them. They embraced the Leave No Trace mentality and left their campsite cleaner than when they arrived.
Doing Your Best

when pitching tents for the first time. 9th

graders accepted the challenge of build their tents and helped 10th graders who needed it.
Curiosity

in learning about ecology, the Continental Divide, Manifest Destiny and conservation ethics - even on the weekend!
Students and staff hiked, swam in the Arkansas river, built fires, enjoyed beautiful views, and built strong bonds within their community. Go Wolves!