DSST: Conservatory Green High School art students' mural leaves lasting legacy, showcases impact of creative collaboration
DSST: Conservatory Green High School's Visual Arts 3 - Industry Connect and AP Drawing classes recently undertook a transformative project that left an indelible mark on their school.
The seeds of this artistic endeavor were sown a year ago when art teacher Alexis Wallin, the visionary behind DSST's Visual Arts Industry Connect class, had the opportunity to connect with local muralist Bobby MaGee Lopez. The collaboration began as a means for Lopez to share his vast experience as an artist with Wallin's class. However, the idea quickly evolved into something more significant: the creation of a captivating mural that would become a focal point of the school's creative atmosphere.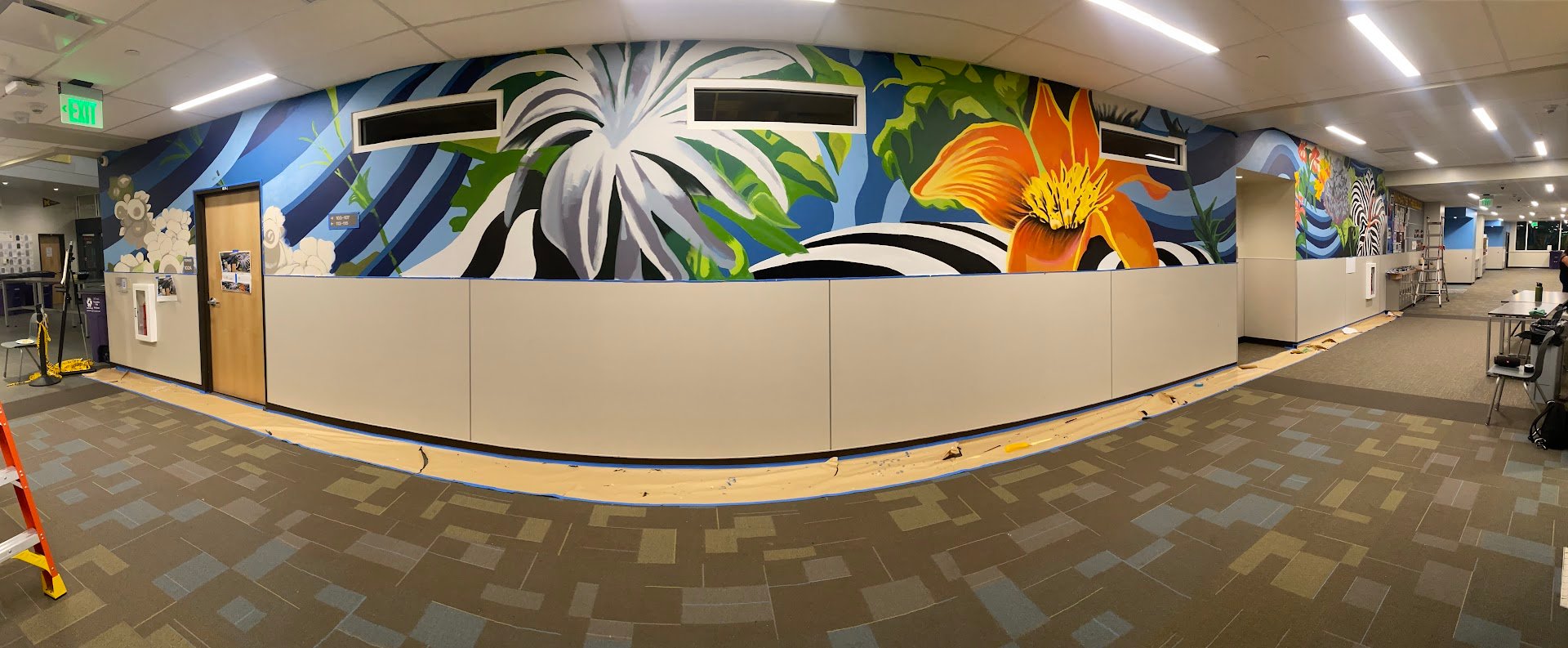 A Catalyst for Innovation
Wallin's initiative in creating the Visual Arts Industry Connect class, designed to provide advanced art education to junior students, set the stage for this ambitious project. Recognizing the need for a year-long advanced art course to prepare students for AP Art, Wallin took it upon herself to bring the concept of internships into the curriculum.
"The only art for juniors was a two-trimester course that included advanced students and students who had never taken art before, making it impossible to teach to their level exclusively," Wallin said. "My idea was to bring the internship in and teach them how to create resumes and portfolios and conduct interviews myself within the now year-long course to satisfy the internship requirements while not letting their art skills slip away."
This innovative approach effectively bridged the gap between creativity and career readiness and set the groundwork for implementing the program across DSST: Conservatory Green and other campuses.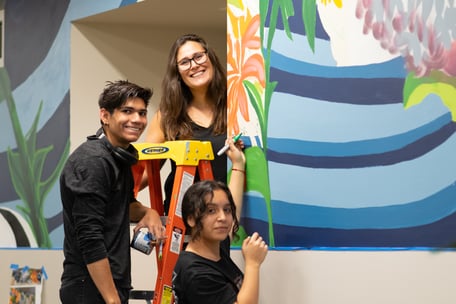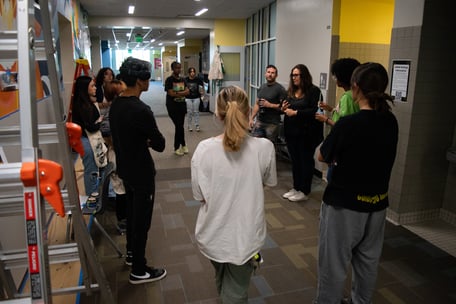 Collaborative Creativity Takes Center Stage
The mural project started with an inclusive brainstorming session involving the Visual Arts Industry Connect class and AP Art students. The creative process was a testament to the diverse perspectives within the art community at DSST: Conservatory Green.
"The students sketched out ideas after deciding on several themes, then Bobby created a final design with his expertise that fused all ideas together in the ways that were possible," said Wallin.
Senior Riley Steele said the design process included lots of artistic voices and opinions that had to be taken into consideration to make a cohesive piece.
"The design process for this mural was very fast-paced," Steele said. "There was a lot of verbal discussion of ideas and visions, compiling individual sketches and having the final design created and then tweaked to create a beautiful final mural blueprint."
It was an artful collaboration that transcended typical classroom experiences, bringing students together in an extraordinary venture.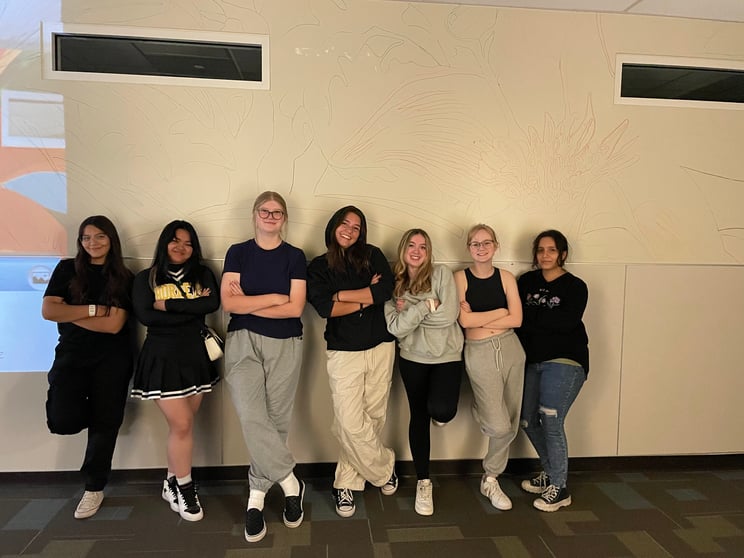 Leaving a Lasting Impression
For students like Riley, the mural represented an opportunity to leave a lasting imprint on their school.
"Creating this mural was important to me personally because, as a senior, I wanted to find a way to leave my mark on this school," she said. "I was able to make this mural something that I believe that my whole school will enjoy for years to come and something that I was proud to have my name on."
Senior Mya Villarreal, who has a deep-rooted passion for art, found the experience to be unique and fulfilling.
"Working with a well-known muralist was certainly a learning experience," Villarreal said. "I was taught many things about art and creating things that I had never previously seen, and in the process of actually creating the mural, I was taught new useful techniques and skills I can use further in my future."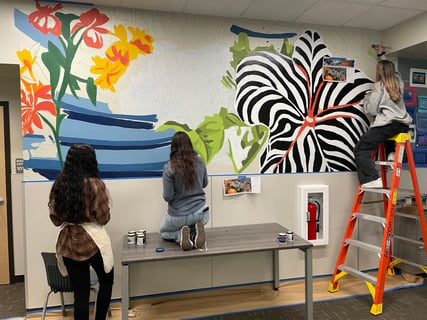 A Dream Realized
For senior Nebiat Addisu the opportunity to contribute to the mural was a dream come true, a realization of a long-held desire to make a mark on the school.
"As a founding member of the last class, it felt special to know that we would be leaving with a piece of us behind that students could see later on and could think about what messages it might send them," Addisu said. "Overall, it felt like a dream and once-in-a-lifetime experience that I was glad to be a part of."
Atziry Ricalday, 12th grade, too, embraced the chance to create something that would endure beyond her time at the school. She saw it as an opportunity to highlight the importance of the arts in a STEM-focused institution.
"We are more than just STEM," Ricalday said. "We are also artists. It feels like we contributed to the school in one way or another by adding an artistic touch."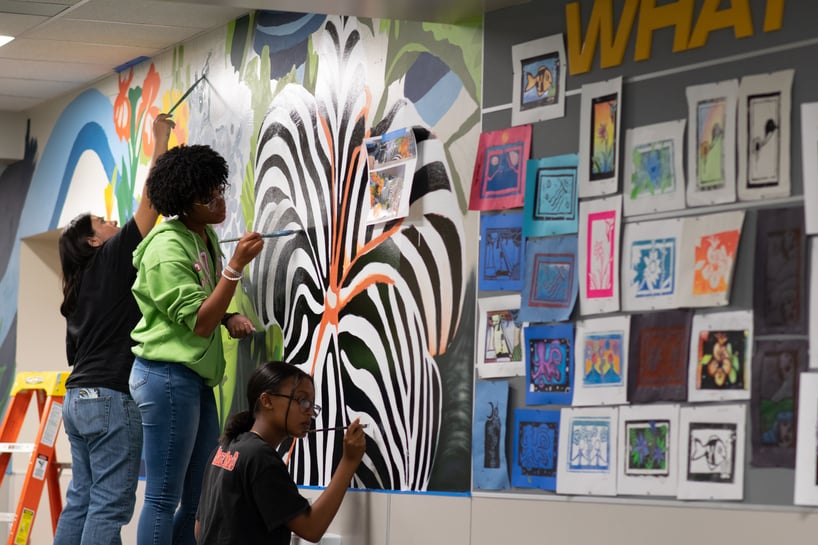 Unity in Art
Senior Yubi Tapia-Guerra described the collaborative effort of creating the mural as a representation of the unity of the art world throughout their community at CGHS. It demonstrated the importance of working together and the potential for greatness from collective efforts.
"The design process was a well thought out process involving the AP Drawing class alongside other classes incorporating the ideas of students in order to make a piece representing not only our thoughts but our own designs in the mural," Tapia-Guerra said. "Knowing that we painted on the same walls many of us have walked with for four years and many others have and will continue to walk is something special to me. We are bringing light and life to the hallway, creating a legacy for various generations of students and potentially inspiring them to paint more murals in the future."
Mariah Kemp, 12th grade, too, recognized the significance of this mural in her personal journey. It allowed her to showcase her skills, collaborate with her fellow art students and bring a much-needed infusion of life into the school's hallways.
"It feels very nice to know that we were able to add some color to the school and leave knowing that we were able to do something important like this," Kemp said. "I was able to make new connections with the people in my art class and make a change to the school."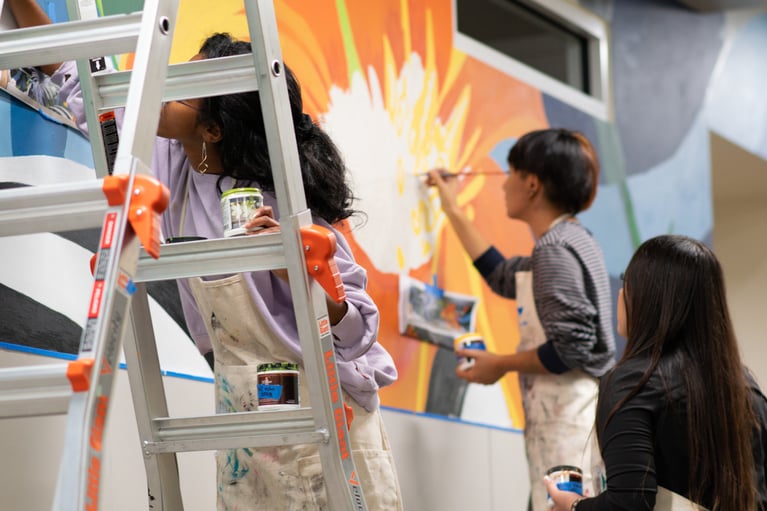 A Lasting Legacy
The mural project, spearheaded by Wallin and brought to life through the creativity of Lopez and the dedication of DSST: Conservatory Green's art students, stands as a testament to the power of art to unite and inspire.
This mural is not just paint on a wall. It's a heartwarming reminder of dreams realized, unity embraced and the magic that unfolds when creativity unites a community. It's a legacy that will continue to impact all who pass by, leaving behind a trail of joy and inspiration.
Click here for more photos.