DSST's newest school - and first in Aurora, CO - will open this summer and welcome their founding class of 6th graders! The Aurora Science & Tech team has been working hard behind-the-scenes getting ready for the school year ahead... check out some highlights below about what they have been busy doing:
8 Days Left to Enroll!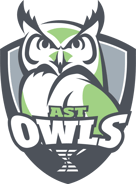 Did you know that students can now enroll for a spot in our founding 6th grade class? Through February 28, you or your friends can enroll rising 6th graders to attend the brand new Aurora Science & Tech.
Visit our website to learn more about AST and enroll today!
AST & Aurora Partnerships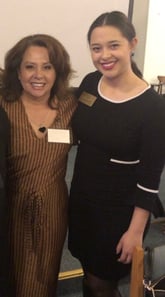 AST team members have been busy partnering with advocates in the Aurora community.
On January 19, we attended the Village Exchange Center's Birthday celebration, where guest of honor Aurora Councilwoman Crystal Murillo (pictured right with AST Student Recruitment Coordinator Yunuen Cisneros) received the Martin Luther King Jr. Award.
Other partners in Aurora include Jewish Family Service, Aurora Chamber of Commerce, Aurora Community Connection, and many more. We have been focused on a wide range of community services, including helping families identify key characteristics of a quality school and advising how to advocate for themselves and their children.
Sneak Peek into the 6th Grade Classroom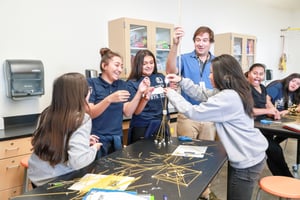 Building off of the successful DSST core model of liberal arts and STEM, AST will feature a unique academic experience. Students will engage in integrated literacy, mathematics, science, and social studies. Additionally, there will be electives in physical education and STEM (computer programming, design, and creative engineering). There will also be room for student input! We will develop after-school clubs and activities that interest students, including sports, language, arts, and more.
Meet Alma Garcia, AST's Front Office Manager!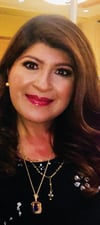 Alma Garcia was born in Chihuahua, Mexico, has worked as an accountant, and later in TV and radio- most recently at EstrellaTV.
She is excited for the opportunity to be a part of the team at Aurora Science & Tech, and looks forward to supporting and motivating young people as they ignite their passions and discover their purpose in life.
Come Work With Us!
Our Talent Team is excited to find passionate educators who want to achieve our mission of transforming urban education and ending educational inequity in Colorado.
If you, or someone you know, are interested in joining the AST Team, check out our Career Page to learn more about Aurora Science & Tech and apply directly for positions! Current open teaching positions include: English, Math, Science, Social Studies, PE, STEM Elective, and Special Education.
Aurora Science & Tech in the news!
AST Radio interview (QueBueno, 1/16) Founding School Director Peter Sherman and Student Recruitment Coordinator Yunuen Cisneros spent some time at the QueBueno radio station to share details about AST and answer questions from parents.