Super Staff Spotlight: Alex Haserodt-Arnold at College View MS
Every few weeks, we like to highlight an exemplary staff member that has been nominated by a colleague for the great work that they do, whether inside and outside of the classroom.
One of the recipients of the Super Staff Spotlight was Alex Haserodt-Arnold, who teaches 7th grade science at College View Middle School.
Alex, now in her third year of teaching at College View Middle School, loves science and kids. But most of all, she loves inspiring kids to love science. Her idol is Ms. Frizzle from the Magic School Bus, and she is just as kooky and fun. She's known to always have something cool going on her classroom, and a love for education is in her DNA- her mom can often be found helping out with a fun science experiment. Every year, she's built some sort of aquatic ecosystem in her classroom out of recycled materials. While the project may make her classroom may reek, she and her students love it.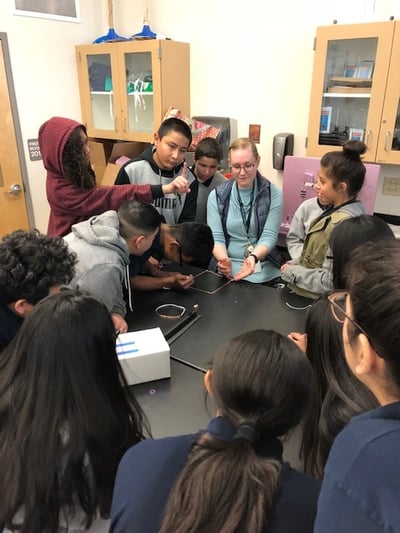 Alex demonstrating how electricity is conducted through different materials with a group of fully captivated STEM students.
While Alex is relatively new to teaching (she started at College View right after finishing her masters in science education), she has a growth mindset and commitment to teaching that continuously inspires her colleagues. Last year, she adopted the Next Generation Science Standards (NGSS) curriculum in her classroom, which is no easy feat. This year, colleague Alyse Nelsen saw her happily creating materials for a lesson and brimming with excitement over how this year's lesson was better than the last, and how much she was already looking forward to teaching it next year when it will be even better.
Alex may know how to have fun, but she has also emerged as one of the fiercest advocates for CV MS students, and is always willing to stand up for others, whether it's students or staff. She fearlessly speaks her mind at staff meetings, and is radically candid with staff and students alike. Full of school spirit, she's a great leader to her 7th grade advisory.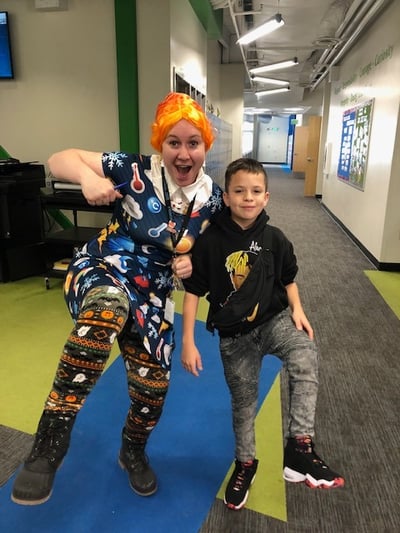 Kudos to Alex for keeping science joyful and fascinating, and inspiring curiosity and passion in the thinkers and innovators of the future!